Executive Committee:
Charlene Autolino – Chair
Lorna Pallares – Former Chair
Dr. Andrea Dauber-Griffin – Vice Chair
Jahzi Jackson-McCree – Executive Secretary
Subcommittee Chairs:
Chair, Employment Subcommittee:  Charlene Autolino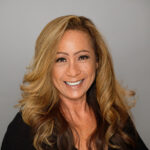 Charlene is currently the Chair of the San Diego Reentry Roundtable and has held the position of Vice Chair and Secretary and has been leading Prison Ministry for over 17 years. She serves on several committees' and Board's. Charlene has the experience and expertise in the area of Outreach and Networking.
Co-Chair: TBD
Secretary: TBD
Chair, Policies and Procedures/Legislative Subcommittee: Jennifer Gomez, B.A
Jennifer Gomez is Program Coordinator for UC Irvine's LIFTED (Leveraging Inspiring Futures Through Educational Degrees) Program – the first UC BA degree-granting program for currently incarcerated individuals; and ACCESS Ambassador for Cal Voices – the oldest continuously operating peer-run consumer advocacy agency in California. Jennifer is a formerly incarcerated alumni of UC San Diego where she received her B.A. in Political Science with a concentration in Race, Ethnicity, and Politics. She currently serves on multiple boards and committees of social justice-seeking organizations, including Underground Scholars, Inc., Rising Scholars Mentorship Program at Southwestern College and the San Diego Re-entry Roundtable Policy & Procedure/Legislative Committee. Jennifer's purpose in life is to use her voice and lived experience with addiction, behavioral health, and the criminal legal system to advocate for herself and others to help empower others and end systemic barriers and mass incarceration.
Co-Chair: Dr. Andrea Dauber-Griffin
Upon her arrival to the United States in 2011, Dr. Andrea Dauber-Griffin accepted lecturer appointments at the University of San Diego, University of California San Diego and DeVry University while pursuing her crime and criminal justice-related research agenda. Part of her research included a qualitative study involving incarcerated women at Las Colinas Detention and Reentry Facility in Santee. In 2016, she transitioned to The Neighborhood House Association (NHA) where she has been overseeing NHA's in-reach and reentry services which serve incarcerated women and men living with mild to serious mental illness and co-occurring disorders in San Diego County detention facilities. She has served on the Board of the United Nations Association San Diego Chapter since 2016 in addition to being an Alternatives to Incarceration (ATI) Advisory Board member for San Diego Association of Governments (SANDAG) and serving as a Commissioner on the Commission of Police Practices in San Diego since 2020. She has chaired the Policy & Procedure/Legislative Subcommittee since 2017. As a sociology professor, she will be teaching Sociology courses at RJ Donovan State Prison through UCI's LIFTED Program starting in 2023.
As a trauma survivor, Dr. Dauber-Griffin passionately dedicates her life and career to serving those who have no voice. Dr. Dauber-Griffin obtained her doctorate in sociology from Johannes Gutenberg University Mainz, Germany in 2010 and a second Master of Science in Criminology and Criminal Psychology from the University of Essex in 2022. She is a Certified Trauma Counselor and Certified Master Coach.
Secretary: TBD
Housing and Transportation Subcommittee: Jahzi Jackson-McCree
Co-Chair: TBD
Secretary: TBD
Chair, Education Subcommittee: Abby Gillespie
Abby Gillespie is a doctoral student in the Biological Sciences program at UC San Diego. She volunteers as an instructor and head of advocacy for the UCSD Science Class Jail Program, an outreach group that teaches science to individuals who are incarcerated at East Mesa and Las Colinas reentry facilities. She is working to break down the systemic barriers that prevent those who are system-impacted from accessing an education.
Co-Chair: TBD
Secretary: TBD