The Mission of the Employment Sub-Committee is to provide a collaboration of community-based organizations for the purpose of educating employers in an effort to ensure the successful reentry of justice-involved individuals.
For several years the committee has held Employer Lunch & Learn events quarterly to fulfill their Mission in educating employers. These events have educated employers in multiple areas such as the Tax Benefits, On the Job Training and Work Innovation & Opportunity Act. This venue also allows employers to connect with other employers who have experience in successfully hiring those with criminal justice backgrounds.
This committee is committed to the continued work of opening the doors to employment for this population. We know that it benefits ALL of us if we support the efforts of getting those back into the Workforce as productive and Tax Paying citizens.
Charlene Autolino of Outreach Consulting Services has her bachelor's degree in Criminal Justice and has been in the Reentry Community for over 16 years. Currently she is the CEO/Chair for the San Diego Committee on Employment of People with Disabilities and the CEO/Chair of the Veterans Employment Committee of San Diego County. She has also worked for the California Department of Corrections and Rehabilitation as a Parole and Community Team Coordinator for the following Parole Offices, San Diego, El Cajon and Chula Vista.
She is the Vice Chair of the San Diego Reentry Roundtable and has held the position of Chair and Secretary and has been leading Prison Ministry for over 16 years. She serves on several committees' and Board's. Charlene has the experience and expertise in the area of Outreach and Networking due to her extensive referral base and Affiliations.
Affiliations and Committees:
Chair/CEO of SDCEPD – San Diego Committee on Employment of People with Disabilities (Sponsors of Jobtoberfest)
Chair/CEO of the VEC – Veterans Employment Committee (Sponsors of the largest Veterans Job Fair) Transition Funds Committee / Media & Marketing Committee
Chair of the San Diego Reentry Roundtable
Prop 47 Grant Committee – Community Representative
Corona Virus Supplemental Funding Program SD County Local Advisory Committee – San Diego Sheriff's Department – Committee Representative
Transition from Jail to Community Committee – Committee Member 
Volunteer Advisory Committee Donovan State Prison – Committee Member 
CCP – Community Corrections Partnership – Community Representative
SANDAG – Alternatives to Incarceration – Advisory Member 
Always Ready – Advisory Member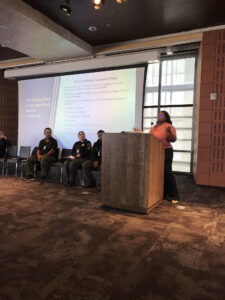 Meeting day/time:  The first Monday of the month at 1:00p.m.
Chair: Charlene Autolino
Outreach Consulting Services
employment@sdreentryroundtable.org